---
CAPE TOWN – After being touched by the hand of God, Harry Kane was at his superhuman best.
There were two more goals from the Tottenham Hotspur striker as he destroyed a Liverpool defence that was simply desperate. They were Kaned and should be caned after this.
At half-time Diego Maradona, here as a guest, held aloft a Kane No10 shirt, playing to the crowd, but it is the kind of moment that will motivate the England forward even more. Kane wants worldwide recognition and world-class status and it was interesting that the Spurs manager, Mauricio Pochettino, introduced Kane to Maradona prior to kick off.
"It was difficult to let [Maradona] go," Pochettino said of his compatriot, hailing him as "the best player ever" while Liverpool never got close to Kane who ran at them time and again. It was a mismatch.
Paid content
Men, You Don't Need The Blue Pill If You Do This Once Dailyadvice.mensnewsnow.com
Do This Before Bed To Regrow Your Hair All Night Longen.dailyhealthclub.co
Before Maradona's show of that Lillywhite shirt, Liverpool raised the white flag. It is hard to recall such a shambolic, insipid, chaotic defensive display as the one they delivered in a first-half that reaped three goals for Spurs – it could have been five – before they made a gift of another inside the hour.
Spurs were rampant; Liverpool were rank, at least defensively so. They threatened going forward, through the tireless Mohamed Salah, and there were a couple of outstanding saves from goalkeeper Hugo Lloris, but that means nothing when they are so appalling at the back.
Kane gives Tottenham an early lead CREDIT: GETTY IMAGES
Parking the bus? That is not Jürgen Klopp's way but the Liverpool manager threw his defender Dejan Lovren under the bus by taking the hapless centre-half off just after the half-hour. By then Lovren had been beaten as Kane bullied the Liverpool defence. It was a man against boys.
Kane's goals mean that only another Argentinian, a certain Lionel Messi (with 46 goals), has scored more in all competitions in 2017 than the England striker who has 38, equal with Edinson Cavani (before Paris Saint-Germain kicked off on Saturday night). It is 17 in 13 matches for club and country for Kane, 13 for Spurs and when he was substituted there was a standing ovation and also a concerned check from Pochettino as the forward had felt the back of his leg before he went off although he was later said to be simply tired.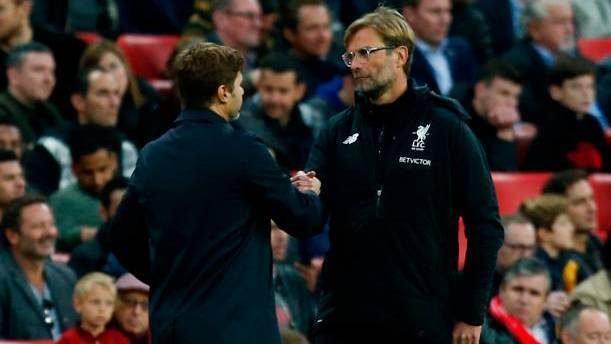 While Liverpool will be having nightmares after this, Spurs will believe they have banished their own demons with a thumping home win at Wembley in the Premier League against one of the other 'Big Six'. It capped a wonderful week after the impressive Champions League draw with Real Madrid, drew them level with Manchester United in second place and, right now, they look the likeliest contender to push leaders, Manchester City. Incredibly, after just nine matches, Liverpool are 12 points off the top.
Spurs sensed their weakness. They had lined up in a 5-3-2 formation, conscious of the threat of Liverpool's attacking triumvirate, the pace of Salah in particular, but broke quickly with Son Heung-min partnering Kane in attack and Dele Alli far more effective running from deeper in midfield.
Not that, in front of the biggest-ever crowd for a Premier League match, 80,827, they had to work particularly hard for their goals. Less than four minutes had elapsed when Kieran Trippier chipped the ball forward, after combining with Christian Eriksen and Son from a throw-in. Lovren inexplicably lost Kane, who ran between him and Joel Matip before lifting the ball past Simon Mignolet who had unnecessarily rushed from his goal. Kane was clipped but steadied himself to shoot into the unguarded net. Then, horribly, Lovren blundered again as he woefully misjudged a long throw from Lloris allowing Kane to run free down the right and the striker sprinted on and crossed low for Son who superbly guided his first-time shot past Mignolet.
It was a car-crash for Liverpool and they were caught out again when Son ran on to Eriksen's through ball, which arced between Lovren and Matip, for the forward to thump a right-foot shot that struck the underside of the cross-bar and bounced out.
A lifeline came for a drowning Liverpool, though, when Kane smartly turned Emre Can and ran from his own half. Liverpool players swarmed around him, Kane went down – Pochettino claimed a foul – and Jordan Henderson angled the ball forward. It deflected off Alli's head and went between Jan Vertonghen and Serge Aurier for Salah to run on to and steer a low shot across Lloris.
Would that change the dynamic? Instead Alli slid a clever pass beyond Lovren for Son who, clear on goal, saw his shot blocked by Mignolet with an outstretched left leg. Klopp had seen enough. Off came Lovren. The manager later said he could have substituted other defenders but it was Lovren who suffered the humiliation.
But Liverpool did not improve. On the stroke of half-time Can brought down Alli and Eriksen's free-kick was headed out by Matip, as he back-pedalled, but only to the edge of his own area. It was met by Alli – as Can stood watching – and he volleyed past Mignolet.
The goalkeeper could do little, maybe, then but was guilty again when he inexplicably flapped at a free-kick, punching it for no reason when there was no Spurs player close and delivering it straight to Vertonghen whose shot was cleared off the line by Roberto Firmino but only to Kane. And we all know what happens next. Another goal.
So it was over despite two fine saves by Lloris, the first one outstanding, when the captain denied Philippe Coutinho with a brilliant one-handed save, at full-stretch, pushing the Brazilian's left-foot shot onto the cross-bar. He then kicked away Salah's low shot. Lloris had also met Maradona – who had grabbed Kane in a bear hug. And Liverpool were smothered.
Match Stats — Team Stats
Tottenham HotspurV.Liverpool
Goals
Tottenham Hotspur
Comparison
Liverpool
4
80%

20%

1
Total Shots (including blocked shots)
Tottenham Hotspur
Comparison
Liverpool
14
53.8%

46.2%

12
Shots On Target
Tottenham Hotspur
Comparison
Liverpool
6
46.2%

53.8%

7
Blocked Shots
Tottenham Hotspur
Comparison
Liverpool
3
42.9%

57.1%

4
Shots from outside the box
Tottenham Hotspur
Comparison
Liverpool
3
27.3%

72.7%

8
Shots from inside the box
Tottenham Hotspur
Comparison
Liverpool
11
73.3%

26.7%

4
Shot Accuracy (excluding blocked shots)
Tottenham Hotspur
Comparison
Liverpool
54.5%
54.5%

87.5%

87.5%
Action areas
Full match
Premier LeagueTottenham v. LiverpoolPossession28.7%51.5%19.8%36.2%63.8%
Line-ups
Tottenham Hotspur
1Hugo Lloris
6Davinson Sánchez
5Jan Vertonghen
4Toby Alderweireld
29Harry Winks
2Kieran Trippier
24Serge Aurier
23Christian Eriksen
20Dele Alli
10Harry Kane
7Son Heung-Min
Substitutes
18Fernando Llorente
17Moussa Sissoko
15Eric Dier
Liverpool
22Simon Mignolet
12Joseph Gomez
6Dejan Lovren
32Joel Matip
18Alberto Moreno
7James Milner
14Jordan Henderson
23Emre Can
10Philippe Coutinho
9Roberto Firmino
11Mohamed Salah
Substitutes
16Marko Grujic
15Daniel Sturridge
21Alex Oxlade-Chamberlain
What a time to be a Spurs fan
That United v Spurs match next week really is so exciting (or at least it is until you remember that Mourinho will be managing one of the team) and the way the two sides are playing at the moment, Tottenham should have the confidence to go there and get a win.
Once again they were outstanding today, with the English trio of Kane, Winks and Alli all superb. Pochettino's back five were also excellent and largely restricted Liverpool to hopeful crosses that were meat and drink for Vertonghen et al.
For Liverpool, it was another defensive horror show, with the hapless Lovren hooked after a half-hour nightmare where he was culpable for both of Tottenham's opening two goals. Klopp can bristle all he likes at criticism of his team's defenders, but he desperately needs to sort it out quickly because they have just one win in six league matches and are three points off the top five already.
Full-time
That's it, Tottenham move level on points with second-placed Manchester United after a comprehensive 4-1 win. Excitingly, those two meet at Old Trafford next Saturday. Manchester City are five points clear at the top incidentally.
Liverpool drop to ninth after a first defeat to Spurs since 2012.
The Telegraph
IMAGES: The Bleacher(Supplied)