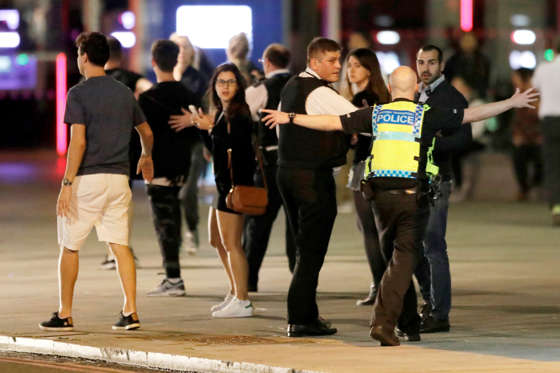 Three terror suspects have been shot dead by police after killing six people, using a van to mow down people on London Bridge, with a second attack in nearby Borough Market seeing people stabbed and revellers fighting the attackers to save their lives.
At least 20 people have been injured but police warned that number was expected to rise.
ALSO READ: Hero taxi driver describes trying to stop terrorists during London attack
The attacks started at 10.08pm on Saturday in areas just south of central London which are popular for an evening out. Police were first called to reports of a van hitting pedestrians on London Bridge. Armed officers were rushed to the scene and the Metropolitan police confirmed that at least one officer had opened fire at Borough Market.
Fears a suspected terrorist connected to the attacks could still be at large have led the police to issue crisis instructions to the public, to "run, hide, tell" if caught up in an incident.
Prime Minister Theresa May condemned the attacks as terrorists inflicted their third atrocity on Britain in 10 weeks.
Hours later, British authorities had not confirmed fatalities but witnesses reported attackers armed with foot-long knives stabbing people. Horrific scenes from London Bridge, where the van ploughed into people, suggest serious injuries.
ALSO READ: Witnesses tell of gunfire and stabbings
London Ambulance Service said it had taken at least 20 patients to six hospitals across the capital following the incident at London Bridge. A number of people had also been treated at the scene for less serious injuries, it said.
As the prime minister confirmed the incident was being treated as an act of terrorism, there were reports of at least three controlled explosions in the area on Sunday between 1.23am and 1.28am.
The violence comes days before Britain goes to the polls and one week after the threat level was returned to severe – meaning an attack was highly likely. It had been raised to its highest level, critical, after the Manchester Arena bombing on 22 May.
Witnesses spoke of the van first hitting pedestrians and of the occupants jumping out. There were reports of a man armed with a large blade.
One photograph provided to the Guardian showed a man on the ground after being shot by police, apparently with canisters strapped to his body. Gabrielle Sciotto, a documentary-maker who took the picture, said he saw people running away from Borough Market.
"It was dark, but I could see three men," he said. "They were about 20 metres away. It was quite confusing – it took me a few seconds to work out what was going on. There was one policeman there, inside Borough Market," he said. "He was trying to scare them away. They ran towards me because the police officer was trying to chase them."
The three men ran out of Borough Market and turned left into Stoney Street towards the Wheatsheaf pub.
"Suddenly lots and lots police came from the other direction." Armed police started yelling at the men, Sciotto said. "There was a lot of shouting. 'Stop, stop, get on the floor', stuff like that. Then the police shot them."
Gerard Vowls, 47, had been watching the Champions League final at the Ship pub in Borough. He was at the start of the south side of London Bridge and said he saw a woman being stabbed by three men in their 30s.
"I want to know if this girl is still alive," he said. "I've been walking around for an hour and a half crying my eyes out. I don't know what to do."
Vowls said he threw chairs, glasses and bottles at the attackers in a bid to stop the men. "They kept coming to try to stab me … they were stabbing everyone. Evil, evil people." It took at least 10 minutes for armed police to reach the scene, he added.
The prime minister, Theresa May, said:
She will chair a meeting of the government's Cobra emergency committee on Sunday, Downing Street said.
Jeremy Corbyn, Labour leader, said on Twitter: "Brutal and shocking incidents reported in London. My thoughts are with the victims and their families. Thanks you to the emergency services."
The London mayor, Sadiq Khan, called the terrorist incidents at London Bridge and Borough Market "deliberate and cowardly", adding: "There is no justification whatsoever for such barbaric acts". The US president, Donald Trump, tweeted: "Whatever the United States can do to help out in London and the U.K, we will be there – WE ARE WITH YOU. GOD BLESS".
Info available at this stage: from 2208hrs officers responded to reports of a vehicle in collision with pedestrians on #London Bridge. 1/3
Officers are now responding to an incident in the #Vauxhall area. 3/3
Emergency services were seen treating people lying injured at the junction of Thrale Street and Southwark Street, near Borough Market. One woman was taken away on a stretcher while others sat injured on the ground, with shocked people crying and shouting around them.
Other members of the public were led up Southwark Street away from Southwark Bridge Road, and police officers were seen shouting to people and ordering them to run. Many were in tears, with friends supporting each other and carrying people up the road.
The London Ambulance Service assistant director of operations, Peter Rhodes, said: "We have sent a number of ambulance crews, advanced paramedics and specialist response teams to the scene, with the first of our medics arriving in six minutes. An advanced trauma team from London's Air Ambulance has also been dispatched by car."
Police entered bars and warned those inside to get get down.
One witnesses, named as Eric, was on the south side of London Bridge when he saw a van on the wrong side of the road. He told BBC Radio 5 Live: "It veered to the right and people were trying to run away from it." When it stopped, he said three people got out and he thought they were going to help the people who had been hit.
"But the three people literally started kicking them, punching them, and took out knives. It was a rampage really," he said. The three men ran off towards the nearby bars and restaurants.
Lara Al-Ostta was having drinks with a friend at the Old Thameside Inn underneath London Bridge when she said people came running into the pub and telling everyone to run away because "people are stabbing each other".
Al-Ostta said she ended running up on to London Bridge – and she and her friend were told by the police to run away. While on the bridge, Al-Ostta took video, seen by the Guardian, of at least three injured people on the bridge, being tended to by emergency services. "I saw people moving, but we thought – f**k, this is a serious thing," said Al-Ostta.
Stephen Tull, who is homeless, was under the bridge at the time of the attack when he heard a bang. He says he ran up on to the bridge to help and saw one man who jumped out of the van and began attacking people.
Olivia Doyle, 23, was travelling across London Bridge in a car with three family members when she heard the sound of sirens. She told the Guardian: "We arrived to see paramedics running to injured people. There were two people lying on the north end, on the east side of the bridge, just off the pavement. There were bits of what looked like car wreckage. We thought it was bits of bike or something. I saw four or five people lying on the ground, but everyone I saw was alive.
"It seemed like some kind of vehicle had knocked people down. They were two or three minutes walk apart, it obviously wasn't an accident. I saw armed police officers shouting at people to stay in their cars, and pedestrians running past us off the bridge.
"We got out of our car and started running then realised that we'd be better off in the car and we could be blocking the road, and the road was clear behind us except for a taxi that had been abandoned."
Thomas Daly, who was also watching the Champions League final in The Sheaf, said they were locked in. "People were saying there had been a stabbing at Borough Market and they locked us in. We sat down again and some minutes later people started coming into the bar and people were getting hysterical.
"A lot of people were streaming through the rear exit and we went outside and heard gunshots. I heard at least two gunshots, and at that point the people who were trying to get out the back entrance came back inside. We went outside to the back, there was gunfire and then we decided to come back in again."
He said armed police then came into the bar and evacuated people.
A third incident, at Vauxhall, was not connected to the terrorist incidents at London Bridge and Borough Market, said Scotland Yard.
TOP PHOTO:  A Police officer clears people away from the area near London Bridge after an incident in central London, late June 3. British police said they were dealing with "incidents" on London Bridge and nearby Borough Market in the heart of the British capital Saturday, as witnesses reported a vehicle veering off the road and hitting several pedestrians.