Goal 
8827 – The number of days that have passed since Totti made his Roma debut against Brescia, at the age of 16 years and six months
786 – Totti's appearances in all competitions at club level, 619 of which came in Serie A. He is level with Gianluigi Buffon (619) and only Paolo Maldini (647) has more.
307 – The number of goals scored across those matches, giving him an average of better than a goal every three games.
250 – Totti's goal tally in Serie A, 25 more than AC Milan great Gunnar Nordahl and behind only record-holder Silvio Piola (274). The rest of the current Roma squad combined has scored 249.
180 – This is the number of players to have taken part in Serie A this season who were not born when Totti made his debut. That's 33 per cent of all to have played in 2016-17.
58 – Totti made 58 appearances for Italy, scoring nine times. He netted once in Italy's World Cup triumph in 2006 and also made four assists, more than anyone else in those finals.
38 – Against CSKA Moscow in November 2014, Totti became the oldest player to score a Champions League goal, at the age of 38 years and 59 days.
32 – The number of goals Totti scored in his most prolific season in 2006-07. He finished as top-scorer in Serie A with 26.
23 – Nobody but Totti has managed to score at least once in each of the last 23 Serie A seasons. Only Maldini can match the 25 he has played in overall.
1 – The number of league titles Totti won. He scored 13 goals to help Roma to the Scudetto in 2000-01, when they finished two points ahead of Juventus. He has been runner-up 10 times since. Along with that title, he has won two Coppe Italia, two Supercoppe and the World Cup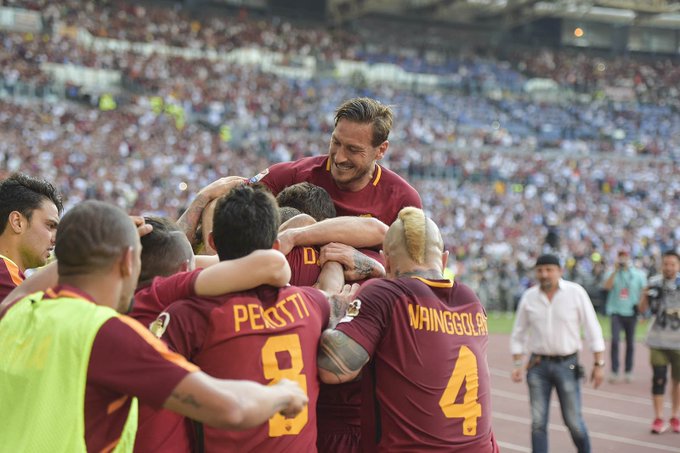 For him. For Roma.

The Giallorossi win 3-2 in @Totti's final game, and secure automatic qualification for the @ChampionsLeague group stage.